Newsreel archive British Pathé recently put 85,000 old films on YouTube. So I did what any good New Zealander would do – I searched for New Zealand films. My favourite is "Pan Am New Horizons New Zealand", a promotional film from 1970 depicting New Zealand as a tourist destination.
It portrays and idyllic version of New Zealand, where even on cloudy days the sun is shining and everyone is happy. You know, like how New Zealand is when you're overseas and drunk and thinking back to your sweet homeland. I have scoured the film for the mightiest moments. Here they are:
1. Citizens on patrol
This guy doesn't even look like a proper traffic cop. It looks like he's stencilled "TRAFFIC" on the front of his bike, bolted on a megaphone, and driven up to the Newmarket Viaduct on his office lunch break where he will spend an hour yelling out some DIY citizen policing. "Oi! Stay in your lane, sunshine!" "Don't you flick that cigarette ash at me, you mongrel!"
2. Walk shorts
It was the early 1970s. Women's fashion was gripped with the miniskirt (or dress), and because New Zealand is a fairly egalitarian society, men's fashion had its equivalent in the walk short. There is notable variation in styles in this shot. Black Bum on the right has longer shorts with standard knee-length socks, with Bluey on the left flaunts his pins with shorter shorts and lower socks. Well, hello! Meanwhile in the middle, along comes a lady in a minidress, looking surprisingly modestly dressed in comparison.
3. Tanning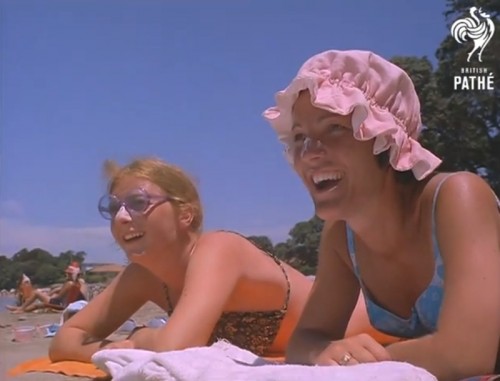 They're probably both covered in coconut oil, or maybe playing it safe with some SPF 5. The tanner on the right has the power combo of a shower cap along with a smear of zinc on the lips and nose for further sun protection. Meanwhile, the ginger friend is quite happy to force her naturally pale skin to the tan in the harsh New Zealand sun. Make the most of it, ladies – the ozone hole will soon be discovered and the Slip, Slop and Slap campaign is only a decade away.
4.Meter maids
Are you a Rotorua tourist annoyed that the man wants you to pay for parking while you spend up big on sheepskin slippers and paua shell ashtrays? Well, the Rotorua Progressive Businessmen's Association got a couple of local wahine to dress up in plastic tikis and put coins in near expiring meters. Sadly this service no longer exists, but then, nor does the Rotorua Progressive Businessmen's Association. E hine, hoki mai ra.
5. Stormy weather
This is the magic of New Zealand. The bottom half of the shot is two ladies off to play a round of golf at the Chateau Tongariro on a sunny day. The top half of the shot is the most ominous looking storm clouds ever. It doesn't just seem like, oh, it might rain. No, it seems like there's going to be a huge once-in-1000-years storm, the rain will never stop, the Chateau will be washed away and everyone's fun skiing and golfing holiday and will be ruined.
6. Tickets to the gun show
The kiwi is being all bad-ass with its gnarly claws, but check out the muscular physique of its handler. Was everyone in the 1969 really tanned and fit looking? Not only that but this fellow has some proper navy tattoos, probably done during the war by a crusty old seadog using a rusty nail and a bottle of Indian ink, as part of some sort of booze-fuelled initiation ceremony. You don't mess with a dude like that.
7. Bloody goths

Meanwhile, the rotating kiwi statue looks thoroughly miserable. Does this reflect the mental state of the person who sculpted it, an expression of inner turmoil in the medium of plaster and chicken wire? As the kiwi turns, it surveys the cold, heartless world that surrounds it.
8. The before time
It's almost impossible to look at historical footage of Christchurch without a sense of ominous foreboding. While these carefree teens relax on the banks of the Avon for an afternoon waiata, in 42 years time the historic bridge behind them will have sustained a bit of damage, while the Municipal Chambers in the upper right will be severely damaged, propped up with huge steel brackets. Enjoy the delightful folk music while it lasts, girls.
9. Thigh gap
The film's voiceover proclaims New Zealand to be "the Switzerland or Norway of the South Seas". This is cruel, making me think of an alternate New Zealand where Queenstown is an hour's train journey from Italy or Milford Sound is just a ferry away from Denmark. No, because this is New Zealand, we have ol' Royce waiting for his wife to come back from the toilet, exposing his thigh to passing tourists like a harlot.
10. Too cool for gloves
Just look at that hipster. He's about to ski down the mountain, but he's come dressed in a Libertines jacket, like it was 2004, and no gloves because he's too cool for gloves. Well, don't come crying to me when you have to have your fingers amputated due to frostbite. This is a cautionary tale.